Earlier in the year Rachyeta featured us on her lovely Shaadiesque blog and we are very proud to be featured in her Supplier Lounge there, so I am very pleased to be able to share with you news of her exciting new planning packages.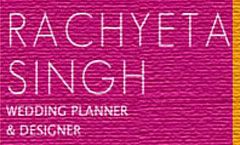 Think you can't afford a wedding planner? Think again! RS WeddingDesigns is offering pick-n-mix planning from just £280 with their Theme Design packages.
"No bride wants a cookie cutter wedding but all too often weddings try to foist a package wedding onto them that really doesn't reflect their personality," says Rachyeta Singh. "With a Theme Design package, it's a small outlay that can really open your eyes to what else is out there."
"It's your opportunity to do something different and make your big day stand out."
The package starts at £280 for design ideas, rising to just £395 if you would like RS Wedding Designs to recommend suppliers as well.
The idea for the Theme Design package came from customer demand. Rachyeta often updates her blog with gorgeous reception decor ideas and her eye for colour and attention to detail can turn a dreary hotel package wedding into something rather wonderful.
One bride who avoided a cookie cutter wedding, but ordered some gorgeous cookies, is Catherine, who booked a Theme Design package with Rachyeta.
"The theme Rachyeta chose for us was a paradise dream theme, because our love story was something out of a dream," Catherine says.
"The place names were little puffy clouds, the set up was a light blue and pink infusion. Our favours were a mix of a thermometer shaped ginger biscuits and an aeroplane shaped biscuit, as I am a doctor and my husband is a pilot."
"
Her venue suggestion was spot on and everyone had a blast."
So how does RS Wedding Designs come up with these special touches? The company takes an innovative approach to wedding planning, building up an online directory of preferred suppliers to add to the creative flair of
Rachyeta and her team. As such, RS Wedding Designs brides not only get great ideas, they also get great discounts.
"Brides use Google a lot nowadays to research wedding ideas but it's a real shot in the dark," Rachyeta says. "You may find the supplier of a product you want, but how can you be assured of quality? There has to be a degree of trust and nothing beats a recommendation from those within the industry.
"Our suppliers are people who will deliver. There is a great deal of vetting going on before they are added to our directory. We want to get to know the company behind the business logo - and, in the wedding industry, the photographer behind the camera."