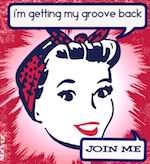 Happy New Year to everyone! I hope it's been a lovely festive season for you all and that it's been everything you wanted it to be.
Last year I joined a
blog hop/linky/meme
started by the inspirational Kate for mums everywhere trying to get their groove back or continue grooving! I am the first to admit that although I am a big fan of her blog and others that I'm not very good at contributing regularly as a #groovingmum, I do try to read as many posts as I can and I comment occasionally. We all have ups and downs in life and it is great to have a support network to help you through and who you can help when you are able to.
Each week Kate poses questions/challenges which even if you don't actively reply to them can get you thinking and perhaps acting upon. These are today's, my answers are in blue:
1. Did you over-indulge over the festive season? What can you do to prepare for the life-changing journey ahead in terms of improving your health?
Not particularly, with the exception of Christmas pudding and homemade brandy butter. I haven't been drinking so much wine in the evenings recently so when I do have a glass or two it affects me rather more than it used to! I went to a Christmas Eve party, gave a lift to friends and missed out on the free flowing champagne all evening - didn't miss feeling less than 100% the following day however!
Regarding the pud & brandy butter, I refuse to feel guilty for either as I only have them once a year. My sister-in-law said to me "blimey, the brandy butter packs a punch!" - this was because when I thought it was good enough my eldest son tested it and declared that it needed more brandy, have to say he was right ;-)
2. What do you need to change your mind about? Have you written yourself off in some way? How can you shift negative thinking patterns?
Having had a last minute rush order of wedding invitations to do in the week before Christmas as well as trying to get the house straight and clean I was very glad to switch my computer off and have a break from work. Mr LG came home from working in Malta on the 23rd and was absolutely exhausted and run down as he works 12 hour days there. I think he spent the first 24 hours home sleeping, struggled through Christmas day and then we both went down with colds so spent last week either feeling grotty and/or recovering! Since Christmas I have to say that I've been feeling rather disconnected and have found this rather worrying as I love what I do.
However, yesterday and today Mr LG has very kindly tidied up my website for me and sorted out a couple of glitches with the analytics and I've felt the cogs of my brain and enthusiasm click and grind (albeit a trifle rustily!) and start turning again.
I find it difficult to get going at the beginning of each year. New Years resolutions for cutting down on food/drink are useless until January 4th - my birthday is today so I refuse to be on a diet or the wagon till the 4th! In fact I can't say that I'm a big fan of New Years Resolutions as I think changes should be made when you want to make them and for the right reasons, not just because it's the first day of a new year. Make changes because they benefit you and your life whenever you need to make them and you're far more likely to succeed than if you make loads of changes for the sake of it just because you think you ought to.
One of the changes I vowed to make was to walk more often. I have 3 dogs who all love romping around the fields on the farm, but with work
commitments it's not always easy to fit it in. We have a garden with a large wooded bank which contains a rabbit warren so they don't exactly miss out
if I don't make it for a walk, but I always feel much better for doing it both for myself and for them. And
every time
I get out there, even if it's only for 15 minutes, I always think of the #grooving mums!
3. This week, Christians celebrate the Epiphany. Here is one dictionary definition for the word epiphany "a sudden, intuitive perception of or insight into the reality or essential meaning of something, usually initiated by some simple, homely, or commonplace occurrence or experience." What does this mean to you?
In November I went to Malta to visit Mr LG for a few days. I was feeling bloated and unattractive and my jeans didn't fit well. This was a kind of epiphany for me - I've always struggled with my weight but have never bought larger than a size 16 except at the very end of my first pregnancy! After a lymphatic drainage massage (which was not the lie back and relax kind of massage!) I felt the benefits a few days later. This with the lower wine intake has helped greatly and I intend to continue losing weight now that the jolly season is over!
4. Are you aware of all the blogging networks you can get involved with? Is it worth you checking them out and promoting your efforts to sparkle to a wider audience?
I've recently discovered StumbleUpon.com and hope that as I enjoy finding new articles to read through it on the web that others will find my little blog and enjoy it too!
It is the start of a New Year. Whatever "it" is that you are thinking about can be done with a little support.
If you have written a post about your intentions for 2012, feel free to link up below. Let us have your thoughts about the challenges above and leave a comment or link up a blog post.
I've just come home from dinner out with my boys (hubby & teenagers) and have enjoyed garlic bread, pasta and banoffee pie with 2 large glasses of wine - feelings of guilt on a scale of 1-10? -10, it's my birthday and I'll pig out if I want to!